Dr Zbar is the medical director of the Wound Care Center at HMH - Mountainside...

Dr Zbar serves as the Medical Director of the Hackensack Meridian Health - Mountainside Wound Care Center. He has been in this prestigious position for greater than one decade.
Supervising a multidisciplinary panel of health care providers, Dr Zbar manages medical education and quality improvement. During his tenure, the HMH - Mountainside Wound Care Center has grown four fold in volume; and continues to experience one of the best healing rates in the nation, winning several awards.
Dr Zbar specializes in healing chronic wounds rapidly by using the latest technologies. Some of these innovations include the newest topical agents; hyperbaric oxygen (HBO); and negative pressure (vacuum assisted closure). When surgery is indicated, Dr Zbar performs the needed flaps or grafts in order to rapidly promote wound closure.
In 2011, Dr Zbar chaired a regional meeting on Wound Care at Mountainside Hospital.
In 2015, Dr Zbar successfully led the effort to have the Wound Center accredited by the Joint Commission. This specialty award is a major achievement. The next cycle for Joint Commission Sub-Certification is this year.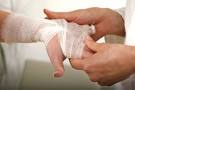 Dr Zbar's success in Wound Care has been recognized on a national level. He authored a chapter in a major plastic surgery text book:
Zbar RIS and Canady JW. "Cold Injuries" in Plastic Surgery, Second Edition, Volume 1, pages 855 – 862; Saunders, Philadelphia, PA: 2006.
Click the file to read the latest brochure from the Wound Care Center....
Click to see an exciting video about the Center!