The decision to undergo cosmetic surgery is important. You need a surgeon who will listen to your goals and achieve them.
You will find experience, ability, quality and caring when you visit Dr Zbar for a cosmetic consultation.
As a double boarded surgeon, Dr Zbar is extremely qualified when it comes to cosmetic surgery.
Dr Zbar has broad experience with cosmetic surgery of the face. Rhytidectomy (facelift), blepharoplasty (eye lift), rhinoplasty (nose) and otoplasty (ear) are just a few of the procedures you can discuss. Open, endoscopic or short scar techniques are all available and will be reviewed.

Whether breast surgery (augmentation, lift, reduction) or abdominal rejuvenation (liposuction, abdominoplasty or full body lift) is your goal, Dr Zbar can easily provide a surgical plan tailored to your specific needs.
Specialized procedures such as thigh lift and arm lift are also available.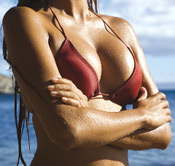 Body contouring surgery following bariatric procedures is now very popular.
Dr Zbar has broad experience in this exciting field of plastic surgery. Dr Zbar was one of the first surgeons in the region to introduce the Full Body Lift (FBL) - combining abdominoplasty, buttock lift and thigh lift all in one procedure! FBL is an excellent way to remove excess skin following bariatric procedures. Sometimes the procedure is even approved by insurance.

Non-surgical intervention (such as botox(R), dermabrasion or injectable filler material) is a worthwhile endeavor for the appropriate person. These are easily performed in the office.